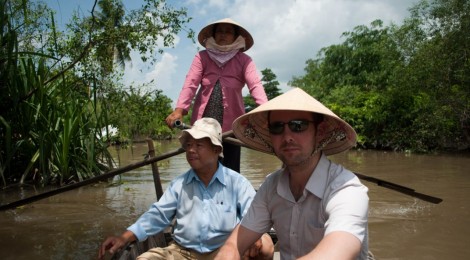 One of my last stops in Vietnam was to visit the Mekong Delta. It's where the enormous Mekong River empties into the sea from it's origin in Tibet. It produces fish and shrimp for export and half of Vietnam's rice as well.
The Delta is vast – it covers an area slightly larger than Wales and Scotland combined, so our visit for half a day was barely going to scratch the surface here.
On arrival, we took a boat straight away for a cruise past the floating markets. They sound a lot grander than they look, but it's a real, functioning market selling anything from coal to melons. Most of the boats were powered by long-shaft propeller engines, but a lot of the smaller boats were punts. On shore, towering over the floating market, was a church.
We were taken to a couple of small cottage industry places. The first produced honey and Royal Jelly, which we were encouraged to look at with a view to buying. We sampled their delicious jasmine tea with honey, but mostly resisted the temptation.
The second produced coconut chewy sweets, rice paper and puffed rice. We were able to watch how all three were made. Whilst impressive, especially the skill in making rice paper, the star of the show was a little boy who was trying to help his father puff the rice. He would run around his father's feet, much to his father's annoyance, who would then lightly scold him and sent him away. At one point, the boy practically stuck his face into the fire under the roaster in an attempt to help the fire along by blowing air at it.
Hai, our guide from the last excursion to the Chu Chi Tunnels, explained to us that the government makes a school exemption for people living on the Delta. Presumably this is so that an important way of life, responsible for feeding the country and earning so much export revenue, continues.
We moved on with another cruise up another part of the river system. At this point, we switched to oar power for a ride to our lunch stop.
Our guide was once again the wonderful Pham Van Hai.Hai very kindly repeated his standard introductory speech for my video camera, as we took a boat ride up a tributary for lunch:
The lunch on offer was either shrimp or "Elephant Ear Fish". I went for the shrimp. The fish, was served lightly battered, but still standing!
Standing in a holder to keep it upright so that the person eating could pull some flesh off with chopsticks, and make pancakes with rice paper, greens, pickles and satay. It looked fantastic. My prawns were enormous, but strangely just served steamed with nothing else – not even rice.
As we cruised back from the lunch to get back to our bus, we were handed coconuts by the captain. As we sipped, we passed more people working on the Delta – washing clothes, building houses, tinkering with engines.