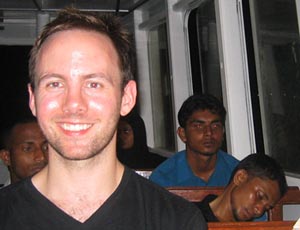 I'm Ciaran Hanway. I've had a site at this domain for quite a long time now. For too long, I've not really bothered keeping it up to date.
So in August 2006, I finally got round to starting the painful migration of the old site into WordPress. The setup was a doddle and with the Blog, which will be the main part of the site, I can keep up to date with the content.
I'm migrating the old pages into the new site slowly but surely. I'll be keeping the out of date stuff, like the Berlin bits, as well as the Atheism and GDR sections, which appear to be quite frequently read.
I'm also "reverse-blogging", if that's the correct term. I'm blogging things that I wanted to blog some time ago but didn't have the blog at the time. Think of it as a migration from my brain into the blog.
If you have any suggestions, or notice any problems, please do point them out to me. It will be a great help. Please also feel free to comment on articles you read on the site, using the comment functionality at the bottom of each article.
In the mean time, welcome to my new site! Please bear with me as I redesign it and fill the blogosphere with utter nonsense and drivel…