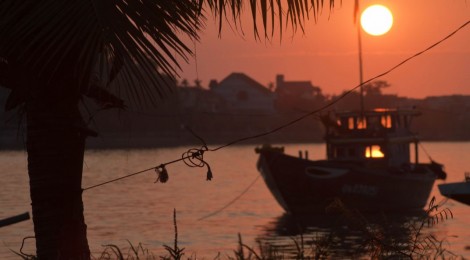 If Hanoi was about seeing Ha Long Bay, and Hue was about seeing tombs and museums, our stay in Hoi An was about soaking up some of the vibe of a Vietnamese town. Our wonderful guide pretty much left us to our own devices for a few days.
Hoi An is a couple of hours drive south of Hue. It used to be a busy trading port in the 1st Century CE, becoming the centre of the spice trade from the 7th Century CE. It sits on the Thu Bon River, at the mouth of the South China Sea:
The town consists of a thriving market, as well as a well-preserved old town. It's also well-known for having an abundance of tailors – close to a thousand. I spent some of my time visiting tailors – see this post.
The key highlights of Hoi An were the enormous river, the market and the surrounding countryside, as well as an opportunity to relax a little. We weren't far from the sea, so we hired bicycles for $1 a day from the shop across the road (they also did laundry for $1 a kilo), and braved the insane traffic out of the city. I used to cycle a lot when I was at University. I'd pretty much cycle anywhere in London and through any traffic. I was apprehensive in the crazy Vietnamese traffic, but found that my slow, steady and predictable cycling carried me safely out of the city and into the rice paddies around the city.
The farmers were harvesting their rice and renewing the soil by burning old fields. Vietnam is the world's second biggest producer of rice, after Thailand.
Cycling back into town, now that I'd overcome my fear, was a liberating feeling, and I got a little lost into the bargain, so  got a free cycle tour of the city, before heading to the tailor to collect my shirt dressed in my swimming trunks.
My body clock is still not quite right because I have been firing on all cylinders since my arrival in Tokyo, so I was able to get up very early to catch the sunrise in Hoi An. Despite leaving the hotel at 5am, I still only really caught the tail end of the sunrise, still that was enough:
Hoi An's market was setting up as early as you might expect for a market. One trader was burning incense:
A fisherman on a moped was delivering shrimp:
Some people were taking a break from work to play dominoes:
But not for long – the market gets busy very fast in Hoi An:
Haggling is a must, and lots of fun. I wish it were more common in the UK. On top of that, there's the street food, which is delicious (more on that later). You could quite easily get lost in the marketplace for the day, it's a shopper's and photographer's paradise.