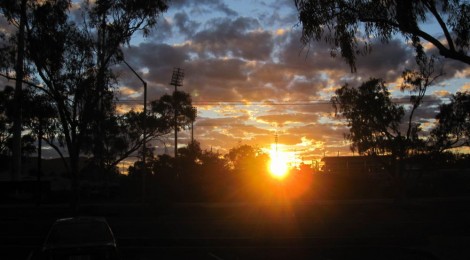 My next stop on the Australian leg of my Round the World adventure was Alice Springs, the most significant conurbation in the centre of Australia.
My reason for stopping off at Alice Springs, also known as "The Alice" was as a springboard to visit the big attractions of the Red Centre, King's Canyon, Kata Tjuta and Uluru (Ayer's Rock). I'll be posting up experiences of those visits later.
I left Sydney on a direct morning flight out to Alice Springs. The flight was uneventful, apart from the spectacular view as coastal forests  gave way to inland deserts:
Alice Springs airport was also my first taste of  a true provincial airport on this trip – minimal security, and basically one small air-conditioned building next to an airstrip. I was met by a shuttle bus to the hostel I was staying at, called Toddy's, and drove through a gap in the mountains between the airport and the town to reach Alice itself.
For now, I had an afternoon and a night to kill in Alice. My tour bus was leaving at 5am the next morning, so I couldn't stay up late and paint the town red, but that was fine, as it turned out: there was strong advice (before my arrival, during my stay from several people including a bank teller, and after too)  not to go out after dusk as muggings are allegedly common. So I set out from the hostel and walked into town along the Todd River. The Todd River is usually dry:
Alice Springs has a population of about 30,000, with the most common non-English language spoken being Arrernte. Being in the centre, there's a large and visible Aboriginal population here – certainly much more visible than in Sydney, and with their own facilities:
Perhaps compared to Sydney, Alice also felt deserted – the town definitely felt too big for the population, or maybe everyone was away for the day. It was a Wednesday afternoon, and there was barely a soul in town. I wandered around a little aimlessly, had a bite to eat and a drink in a saloon with some local toughs, and stocked up on tourist tat gifts for friends back home.
Whilst a lot of the town was empty, a lot of it was shut, including some of the bars. It's pretty clear that there's a bit of a drinking problem when these signs are up, and this is symptomatic of a wider problem among the indigenous people in Australia:
By this time, the sun was coming down, and it was time to make sure everything was ready for my upcoming adventure in the Red Centre. I got some laundry done, made sure my camera batteries were fully-loaded and finished the evening in the bar at the hostel drinking with a Vietnam veteran, between dashes outside to feed the tumble dryer.