Children are delightful. I can't help but smile when, on the way to work, I see kids playing in the playground. Sadly we've developed a paranoia about children. Victorian values taught that they should be seen and not heard, but now it seems they should not been heard or seen.
An indicative trend at the moment is the tendency of some picture editors to blur out the faces of children. It's weird: it almost makes you feel criminal looking at the picture and isn't even applied consistently according to any law, otherwise everyone would be doing it: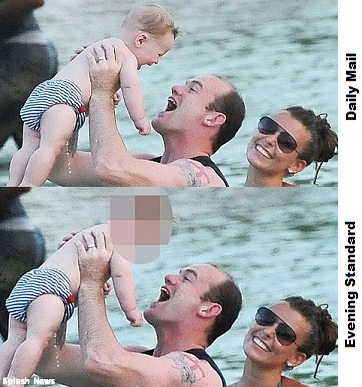 Sometimes real life proves that we won't be influenced by people who want to peddle fear. This mother got chatting to a nice man on the tube. She had her son occupying one of the seats, which she gave up to another passenger. He wriggled on her lap, wanting to play tarzan on the handrail, so she let the man hold him as the boy climbed the post. They played together for about 20 minutes until the man had to get off for his stop. He didn't steal the kid.
Some countries regard children as their parents' first, but with society taking a hand in things second. Isn't it healthier to think like that, rather than live in fear of being accused of being perverse for taking delight in the innocence and beauty of children and responsibility for our next generation?