(click image to enlarge)
The clocks went forward today – usually this means absolutely nothing because we'd usually sleep in the "extra" hour. But we were feeling virtuous, so off to Brick Lane Market and Columbia Road Flower Market we went!
Usual procedure: get up at six, slide into yesterday's clothes, skip breakfast, motor on down to the technical college near the flower market, park and let the fun begin!
Not forgetting, of course the obligatory morning coffee. This time we made the mistake of going to a swanky place behind the flower market – we were the first customers of the day, but they weren't too pleased to see us and take our money for some reason.
In any case, we stocked up on some lovely cut friesas, poppies and "yellow things". We also picked up some very healthy looking rosemary and lavender for the coming spring – an aromatic garden awaits us (in fact we were so good that we planted them already)!
After loading the car, we headed into the Market itself, which had just woken up. It was now about 8am, and this is a good time to visit since there aren't many crowds and most things are open.
No visit to Brick Lane is complete without nipping into the Beigel Bake, and we got some breakfast in there. Now, every time I go to the Beigel Bake, I get a salt beef beigel. Like getting a hangover, I swear each and every time I won't ever do it again (cilck the image for a close up):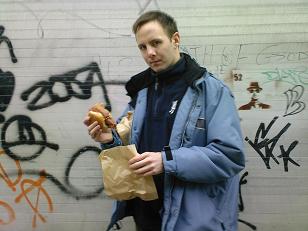 Is it still beating? What bit of the cow is that anyway? What are they trying to hide with all that mustard?
I'm probably being unfair: I've had plenty of great salt beef beigels from there, and I always buy a big bag of fresh ones and Rebecca swears by the salmon and cream cheese ones, but this time I felt my arteries harden as I looked at the the flesh sandwich in my hand.
Still wolfed it down, though. That's a few extra minutes on the treadmill for me, I guess.
Brick Lane's a lot more gentrified these days. A lot of the buildings have been restored, although there are still quite a few derelicts here and there. I'm sure they're worth a bomb.
In a way it's great to see the regeneration happening, but some of the charm is disappearing as the junk shops that really did have occasional steals are getting replaced with the loitering DVD-vending crowd.