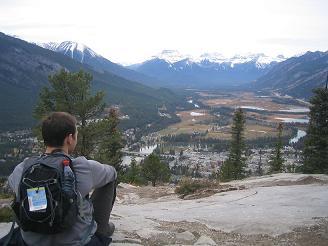 During the past two days, I've travelled about 400km and experienced two different ways of looking at the world.
The first was when Nev and I had just finished climbing Tunnel Mountain, just outside Banff. During the 2.3km climb, we were overtaken by some rather nubile young ladies. "If only We were a bit younger" we thought, referring, of course, to our fitness and ability to keep up with them back in the days when, five years or so ago, we were training hard at full-contact karate.
When I got to the top, I had a good sit down and admired the view (photos to be added later). The girls, however, were far ahead of their teacher, who joined them to give them a little talk at the summit about the beautiful valley they lived in, as well as giving them a bit of a historical perspective on the area. Apparently, Queen Victoria herself had come to the top of the mountain and had sat upon a purpose-built throne, cut into the mountain, to survey her domininon.
At one point, one of the students remarked that one learns something new every day. The teacher responded that it is important to learn something new about oneself every day.
To the cynical British ear, this was a little cheesy, but why should this be the case?
I've spoken to many people who have commented on how refreshing it is to have been to North America (lumping the USA and Canada together here) and have been exposed to the wonderful optimism and "can-do" spirit out there.
I was impressed by the respect and positive attitude of the class on that summit. My inspiration towards perhaps one day becoming a teacher was renewed.
I'm now in Crowsnest Pass. We're now on our Westbound stretch back to Vancouver Island.
Nev and I just had a wonderful rib dinner. What's very, very nice about going out in Canada is that wherever we seem to go, we end up falling into random chats with strangers. This time, we joined a couple at their table.
The couple was an ex-pat from the UK and her Canadian boyfriend of several years. They were charming and wonderful company.
What was interesting, however,  was that the expat was probably the most negative person I've spoken to on my trip: everything from the car we were driving, to London living, to the hicksville quality of the locals was subject to some sort of derision.
Is this tendency to play down the good things in life and focus on the bad a peculiarly British phenomenon?
Is my last question yet another self-effacing jab at the British psyche?
Will my questions never cease?