A rainy saturday morning greeted me as I leaned out of bed to look out of my window. It was overcast and miserable. Not only was the climate outside unfavourable, but the climate inside my skull was also inclement; a week of late nights and drinking had taken their toll.
Still, I couldn't miss out on celebrating Nick's impending wedding in a truly traditional manner: helping him make a fool of himself and getting him very drunk. He was my best buddy during my time in Berlin, after all!
I was supposed to arrive in Bath between 12 noon and 1230 and check into our hotel, but in the end I got a little lost and arrived in Bradford-on-Avon in order to avoid the traffic jams snaking into bath. I didn't see a single Salwar Kameez in what has come to be known as Bradfordistan. (Note to pedants: This is a deliberate misunderstanding)
Finally, after much faffing and changes of plan, including getting rescued by Nick's brother from Bradford-on-Avon, I hooked up with the main group of people at a bar in Bath. Downing our pints, we headed off to Bradford again for more drinking and merriment over a game of cricket. Highlights of the match included:
Tom bowling like a demon: I think he bowled the most wickets.
My Samurai/Maori fusion of batsmanship, including the one-hander of death.
Nick behaving like a chimp on a methamphetamie/ laughing gas cocktail.
Every player getting a can of bitter to hold and drink from whilst batting/fielding/bowling.
A random dog off its leash coming to the pitch and trying to field.
Another random dog joining the first random dog and kicking off a doggy altercation.
I think we finished the game after the beer ran out. Got back to the hotel and changed and then met in the hotel bar, where Nick's traditional humiliation was to take place: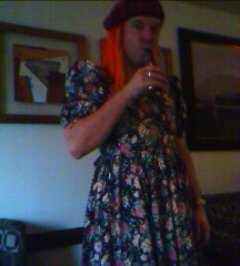 He took the dressing up like a brave girl, though, and we trotted off for a curry at the Eastern Eye. En route to the restaurant, Nick was fortunate enough to get lots of admiring glances and smirks from the residents of Bath. Nick was a true sport.
A massive set menu and some beers later, and we were off to the Pig and Fiddle for a pint of the nastiest, soapiest lager I think I have ever drunk.
The evening ended in Cadillacs, which has been saluted by ItchyBath.co.uk for providing a public service to Bath, "If it were ever to close then the bunch of misfits who go here every week to vomit all over their shoes would be free to infiltrate any of the better clubs in Bath at will."
Highlights of this part of the evening included:
Warm beer
Nasty looking hen night parties
Awful music
Nick pogoing to Belinda Carlisle
Nick streaking through the rugby grounds near the Bath Canal from one end of the pitch to the other, hurdling the sprinklers. He was congratulated with a cheery handshake by the groundsman, who was zipping up after his own "Saturday Night Special" in the stands with one of the fine ladies of bath.
The casualties met the following afternoon for brunch before heading home. All in all, a successful send off for Nick, who departs these shores for the Island of Matrimony in early September.
Bon Voyage!
An excellent selection of photos and videos from the site is available at greghawkins.net. Somehow I've managed to avoid appearing in any of Greg's photos!