My Dad died peacefully at home recently after a long and heroic battle with cancer. His funeral was last Thursday (17th June). My mum and I were in awe at the turnout and the kindness shown to us by so many people from all over the world. I've decided to post some photos of Dad here, along with the tributes given to him at his funeral.
Eulogy
My father, the man you know as Austin, was born William Joseph Augustine Hanway  above a shop in Dublin to Larry and Elizabeth Hanway. He was the second of their two children. His sister, Joyce, is too unwell to travel and is represented by her daughter Susan, of whom Dad was very fond.
Dad excelled at school, spurred on by a love of literature, a great mathematical mind and an incredible memory. He also used to claim the profligate beatings his teachers meted out to their pupils was an inspiration of sorts. He completed his A-Level equivalents a full two years early and started work as a clerk for a major insurance company in Dublin. He made a great career for himself, eventually managing thewhole Guinness brewery account, a subject dear to his heart. But a love of literature stayed with him throughout his life: he was a voracious reader and most of us here will probably remember Dad joyfully quoting poetry that he had rote-learned at school or telling one of the thousands of jokes he'd picked up in the School of Life.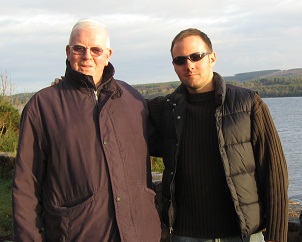 The Irish urge to travel soon kicked in, and Dad went to swinging 60s London to seek his fortune. It was there that he worked for Allied Underwriters before setting up his own business. It was in London that he met Tina, my mother, and they settled in North London, moving to Esher when I was born.
Dad lived in Esher the rest of his life, running his business in London and devoting any spare time to his friends and family. When his business went under in the early 1990s, Dad picked himself up, dusted himself off and got straight back into work, eventually rebuilding his business in East Molesey, using an old garden table as a desk. Dad was a man of incredible stamina and industriousness who believed that there's no such thing as a free lunch unless he was buying you lunch.
I'm sure many here will relate to me when I say that the longest arguments I've had with him have been when I have insisted on picking up a lunch or bar tab: "Hold your arm", he'd say, "This one's on me: You never asked to be born".
Dad was incredibly gentle and understanding. In the 34 years I've known him, I only once really saw him lose his temper. I'd bought a motorcycle against his wishes and crashed it badly. He opened the front door to me without a word. He didn't speak to me for days.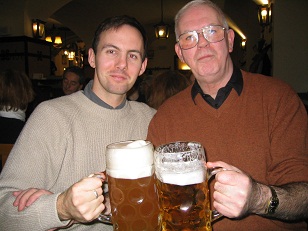 Dad and I shared a lot. He was a confidant and advisor and a great source of strength for me. Putting to one side for a moment his clear disappointment that I wasn't in the Irish National Rugby team, some of his enthusiasms did rub off on me; a love of film and useless information, of good food and drink and a revelry in language and banter. My interest in history started from evenings spent standing at his side as he sliced spuds into a frying pan whilst telling me stories about the Potato Famine.
Dad made friends easily. His greatest power was his speech and he was a sought-after public speaker. It's a testament to his ability to connect with people of any walk of life that I see friends here from the City, from Molesey, from Ireland and Germany, and of all ages. He wouldn't have wanted to put you out, but would have been delighted to see you all here today.
People often remarked that we more like buddies than father and son. He was more than just my Dad, he was my teacher and my dear pal.
Er war mein Vater. Mein Lehrer. My Freund.
Mo athair. Mo múinteoir. Mo chara.
–
Tribute From a Friend and Colleague: Taj
I first met Austin 25 years ago when I joined  Allied Insurance Brokers as a Junior Account Handler. Although he had left AIB he was at most of the functions organised by the company and always the centre of attention.
He was, even then, a legend, and my senior colleagues would recollect his time there with a wistful look, at those heady days of Broker / Insurer and client meetings that were held in the company's second office – the Northumberland Arms, which I understand was run by another Irish gentleman (and I was never sure if the landlord had shares in the company but I understand that a lot of business was conducted there) .
Our chance meeting at Private Portfolio in Horsham some 14 years ago led to my arranging a reunion with my then previous Boss Mike Lewis and Austin. The two of them agreed to form a offshoot of TLD in the South. I only had pleasure of a hangover the following day.
Austin often joked that I was his stalker, as I subsequently followed him to rejoin TLD. We shared many interests outside work and I was fortunate to be able to have the benefit of his advice and counsel.
I am very honoured today to be able to express on behalf of all my colleagues at TL Dallas  and all those in the Insurance Industry who knew him or had dealings with him over the years  and for those that have been unable to get here today , our feelings for Austin.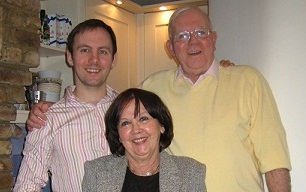 We will remember and miss his humour and wit. I'm sure that you will remember a little story or two of your own, that he may have shared with you. As I wrote a few notes down for today, I started to recollect a few stories myself. I gave up after 20 odd sheets of A4; most  of which I dare not repeat, but my favourite was always the one of him trying to persuade Tina to learn  the Irish anthem and to recite this at the Irish Embassy as a pre-requisite to obtaining an Irish passport.
We will miss his optimism, his linguistic skills, his intelligence and use of his intellect (as a fellow Irishman we used to have long debates of all things unimportant). We will miss his professionalism  and his integrity. I don't believe that his clients ever had to complain about his lack of service. He truly believed that the client came first.
We will miss his manners in Business and social life, his Inspiration and leadership  – not by any use of force,  but by gentle persuasion that truly brought out the best in those he met in his Private and Professional  life.
We will miss his wonderful and charming personality. He had a magic way about him that brought out the best in ourselves. with one major exception the headaches the following day.
But perhaps and very importantly his enduring friendship that made you feel that you were very special to him.
I will leave you with a quote ascribed to Anon,  which I believe epitomised Austin:
To be born a Gentleman is an accident
To die one is an accomplishment.
Austin was a Gentleman and a gentle man
He will be truly missed by us all.
–
Tribute From a Dear Friend: John
Tina and Ciarán have asked me to reflect on Austin's Masonic life I have taken the liberty of extending my brief to include his friends from the Conservative Club, the Palazzo and the many other local businesses of which he was a welcome patron, friend and neighbour.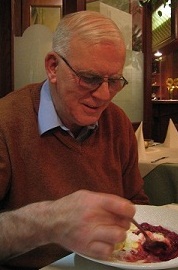 Austin was a big man in stature but within that large frame beat an even bigger heart. His natural warmth, generosity and sense of humour brought joy and pleasure to any company he was in. I never heard a bad word said about him and I rarely heard him say a bad word about another man. Except the late Sid Perks but then not all of the characters in the Archers can be perfect-And of course his daily rants about the Royal Mail.
His warmth is characterised by the sense of security, protection and general well being that he emanated. His generosity in both spirit and deed, many of us in this congregation have experienced and benefited from. In spirit he was always prepared to spend time listening to a friend or helping with a problem. In deed he was inevitably the first and last man to buy a round at the bar. His natural humour, sense of fun and impish delight in the sheer joy of life should be an inspiration to us all. Those us who meet with him on a regular basis will affirm that he inevitably brightened our day.
The Sopranos, The Godfather Trilogy, Goodfellas and similar were Austin's escape from reality, he loved gangster movies and admired the code of the New York Italian American families; a male led society with the values of discretion, dignity, respect, loyalty and mutual trust. He was unsure of some their business practises and unable to find an East Molesey family to become attached to. He thus contented him self with eating in a restaurant called the Palazzo getting his hair cut in a barbers called the Cosa Nostra and becoming a Freemason instead.
As a Mason, Austin had a truly phenomenal ability to learn great tracts of the convoluted rote we call our ritual. Not only was he excellent at learning and reciting it but he was one of the most skilled, teachers, mentors and guides to Masonic learning I have ever met. His quiet patience and dogged determination not only helped those of us less talented and able than him to learn the text, he was able to build up our self confidence and pride.
As Ciarán has mentioned Austin was a skilled public speaker. His relaxed style and warm Celtic tones when telling the shaggiest of shaggy dog stories made him sought after and admired as a speaker at our dinners and we all knew we were in safe hands if Austin was proposing a toast.
In closing, I am sure that you will all join me in saying that we are richer for having known him, poorer for having lost him but content that he is now at peace.
There is a challenge thrown down to all young Masons that we should live respected and die regretted. If ever a man lived up to and exceeded that expectation it is Tina's dear departed husband, Ciarán's father, and our friend and brother: Austin.