We're in Osoyoos. It's in the Okanagan Valley, a desert in the middle of the Rockies.
It's rather incongruous that during the few hours it took to get to Osoyoos from our last stop of Nelson, we were passing through cool forest and snow-capped mountain terrain.
At one point I saw a hobo walking along the road with his dog and a shopping trolley. He was in the middle of nowhere (much of Canada is, it seems). I remember wondering why on earth he was there and where he was going.
Digression aside: on reaching the Okanagan Valley, we found ourselves looking at an arid landscape, which reminded me of a hamada. The clouds don't seem to like this valley very much and there are vineyards everywhere.
It was here that we decided to make a two-day stop. We'd done quite a bit of travelling through the Rockies and for once, I was feeling hot. Osoyoos is lovely and warm and set on a beautiful lake.
Soon after throwing our bags into the hotel, we headed out to see what was going on in Osoyoos. I didn't hold out much hope: the receptionist's answer to my question about where the action was, was that it was an hour's drive north.
In any case, we found a bar or two and the usual depressing series of chain "restaurants". I'm both fascinated and horrified by the prevalance of these places. I'm fascinated because I can't understand how one town can possibly justify having a dozen hamburger "restaurants, which all feature essentially the same menu. I'm horrified because I've been eating on the cheap and now have a lot of running and swimming to do when I get home.
Undaunted, we made a base of operations at a local pub in Osoyoos: had a bit of lunch and shot a bit of pool.
Pretty soon, we were playing pool with a Floridian called James. He was passing through for work. He's a cartographer, and his work involves driving around the world and place pyramidal mirrors at selected points so that a special aeroplane can fly over and fire lasers at his mirrors in order to create accurate physical maps.
Several hours in, we were shooting pool with lots of different people from around Osoyoos, and before we knew it, we were holding court at a table surrounded by locals. Even the manageress joined us and started buying us shooters.
But nobody knew what they were letting themselves in for when the Karaoke started.
Nev and I dominated the proceedings: belting out horribly atonal renditions of Bohemian Rhapsody, some Depeche Mode, some Guns and Roses and Dennis Leary's famous crowd-pleaser. I was also dragged up to duet with a gravelly-voiced woman who later gave me her email address. It began, "whackedgranny@…".
The Floridian joined us back at our hotel room after last orders. Unfortunately, so did two other people from the bar, so copious drinking on the balcony overlooking the lake ensued but was marred by having to make a near-herculean effort to drive the gatecrashers out.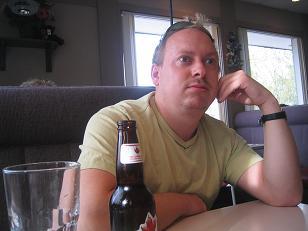 The next morning, we headed down to the local Smitty's "family restaurant" (greasy spoon to you and me). We looked awful and felt worse.
Looking across the restaurant, there were several families in their Sunday Best and clearly having a wholesome family meal after church. And here we were, having just got out of bed and suffering for the sin of drink:
"Let there be wine, women, mirth and laughter, Sermons and soda-water the day after." – Byron
The food was a stodge-a-thon. I had pancakes with maple syrup and lots of smoked pig. Nev had the same but with potatoes and toast instead of the pancakes. Neither of us could finish our food.
People here seem to have a real obsession with food: every table had a little collection of Trivial Pursuit cards. Perhaps this was in keeping with the "family restaurant" theme. One of the questions on the Trivial Pursuit cards read:
"What was the Boston Chicken chain renamed, after branching out into other entrees?"
Stumbling out of Smitty's, we lurched back to the hotel and passed the hobo we'd seen the day before in the middle of nowhere.
Aside from a very sore head, I've no idea how much that night of boozing cost us. In true Gonzo style, we had bade gladhandedly farewell to all before walking confidently out of the bar, and leaving our tab behind.
Hopefully our sheer charisma was reward enough…