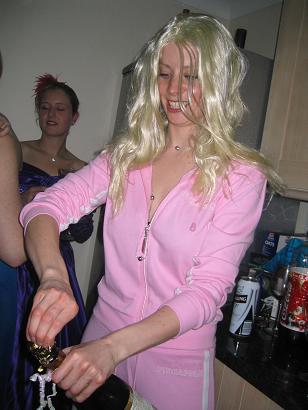 Rebecca's sister Dinah turned 30 on Saturday. The theme was supposed to be Celebrity Come dancing, but no-one really paid any attention to that! Rebecca and I turned up in some kind of cross between Celebrity Love Island and I know not what.
Some people even arrived as "An unknown, waiting to be discovered". In other words, they hadn't bothered to think of an outfit.
I'm not sure whom Dinah was impersonating with her shocking pink candy tracksuit and blonde fright-wig, but she looked every inch the chav starlet, and that's what counts, isn't it?
Dinah's house was jam-packed. You could barely move for the people trying to get it on in the lounge as the DJs played some funky tunes. Caz, who was also celebrating her birthday, had brought her new dog with her and he was frantically trying to avoid getting stepped on, tail wagging like mad…
It really was testament to the huge amount of friends that Dinah has.
There were some gatecrashers too. I passed three girls as they came through the front door and said "hello". They introduced themselves as Bree, Kylie and Sheila. Guess what – they were Australians! After asking me where I was from (Answer: "London"), they asked me if the whole party was full of English people as they wrinkled their noses.
I was inclined to point out that it is hard to avoid English people in England and if the English had got used to meeting English people maybe they should give it a go.
Unfortunately, I was inclined to say this with hindsight – I'm always cleverer after the event!
Another contributory factor to this jam-packing was that people came from very far away: Rukeya came down from Leeds, Jeremy and Helen came down from Cambridge. And I thought I was making a Herculean effort going to the party in Croydon from Harrow!
You can see the full glory of our fancy-dress frolicking here: Gallery.
Were you at the party too? Leave a comment below!!