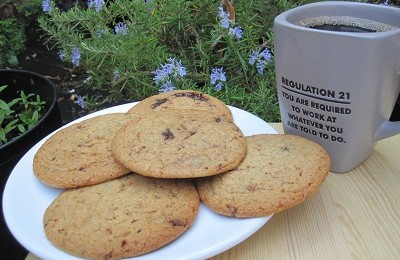 Easter has come and gone. In its wake lies a lot of chocolate. I didn't think I could possibly manage to eat all of that chocolate, so I decided to do something creative with it.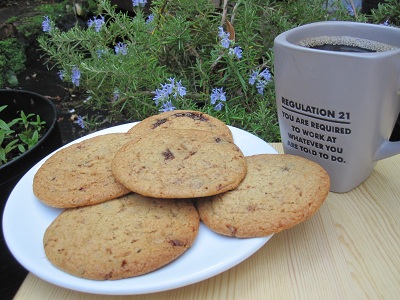 Ingredients
350g self raising flour
1 tsp salt
200g butter
175g caster sugar
175g soft brown sugar
1 tsp vanilla extract
2 eggs
200g chocolate of any kind (dark is good) – smashed into small pieces
Method
Preheat the oven to 190C
Mix  the flour and salt in one bowl
In a glass bowl, combine the butter, sugar, brown sugar and vanilla extract. Put this bowl over a boiling saucepan and melt the butter and sugar together. Try not to just stop here and eat the sugar/ fat mixture: Yes – it's tempting!
Leave the butter/ sugar mixture to cool for a while.
Beat the eggs into the butter/ sugar mixture.
Gradually beat in the flour mixture. Stir in the chocolate.
Roll small marble sized balls of dough out in your hands and place at intervals on a tray with baking parchment.
Bake in the oven for 8-11 minutes.
Put on a rack to cool.