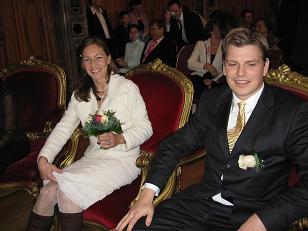 My lovely cousin Christina and her lovely partner Christoph got married at a grand civil ceremony in Wiesbaden.
They got married at the Kurhaus, in an opulent wooden-gilt room in the Kurhaus. It was an unsurprisingly short ceremony, disturbed only by some loud music from a TV company doing a soundcheck across the hallway. We, of course, all applauded when they were pronounced man and wife, and their toddler son, Jakob, clambered onto a chair and bounced up and down clapping in delight. It was all too cute for words.
We then moved into another room for the reception, which was supposed to be a Kaffee und Kuchen (traditional German Coffee and Cake) session, rather than a grand 5-course banquet. Still, the traditional Sekt was in full flow and my rusty german was oiled quite well. It was so good to catch up with the family. I really don't get over there enough…
Christoph made a good speech and his sister arranged a load of children to sing a few songs about Christoph and Christina; how they met etc. We stuffed our faces with cake, more cake, nibbles and Sekt. Some of the more hardcore lot, like Berthold, Gabi, Tobi, Monica, Betti and us saw the some of the evening through at a nearby restaurant. Betti, Rebecca and I later hit an evening Christmas market, where we ate roasted chestnuts and drank mulled wine.
The whole thing was a bit of a blur for me and Rebecca. We met up at Heathrow after work on the Friday night. Jumped on a plane and flew to Frankfurt. My mum was staying at the same hotel, so a nightcap, early start and frantic shopping before the wedding followed. We were back on Sunday afternoon after a lovely weekend!