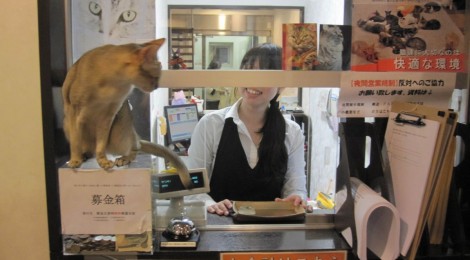 I'd heard about the Cat Cafe phenomenon through a Guardian website video earlier this year.
Urban apartments are often small in densely-populated Japan. Quite often, an additional deposit and/or extra rent is charged by the landlord if a tenant has a cat. For those that crave cat companionship, but can't afford to pay for the privilege, the cat cafe provides a place where people can come and sit with cats for an hourly fee. It's a cat house in the most literal sense.
Being a little cat mad myself, I navigated the rabbit warren of Shinjuku station to find the Calico Cat Cafe. I was running late for dinner with friends, and had already walked for ages in the wrong direction (I feel a blog post about Tokyo road signs brewing), but found the cat cafe on the 6th floor of a building that housed a mixture of restaurants and gaming places.
Entering the cafe was calming. The staff put me at ease at once, greeting me warmly.
They explained that I needed to change into slippers (par for the course in Japan anyway), stow my bag in a locker, and thoroughly clean my hands before going through a glass door into the cat room.
There were also some rules to observe. No flash photography, don't annoy the cats or pick them up, don't wake the cats. At no point was any of this confusing – the staff had enough English and the instructions and rules were available in English as well.
The cat area is divided over two floors, with lots of places for the cats to hide and to perch, free manga comics, high sofas and low sofas. The upper room is designed along the lines of a western living room, with a fireplace look. There's even a Wii! Speaking of wii – there's no overpowering cat smell. The staff must work very hard to clean up after the twenty or so cats living in the cafe.
The cats themselves were beautiful, well cared for, and of pretty much any breed you can imagine: Bengals, Russian Blue, Abyssinian, Maine Coone, Silver Tabby. The thing was, they were completely uninterested in people and play.
In one corner was a rack of cat teasers (feathers on a stick). Most cats love a bit of hide-and-seek with one of those, but these cats were uninterested. I wish I'd brought my laser pointer with me – perhaps that would have elicited a response!
The price for 1 hour at the cafe was 1000 Yen (about £8.00). There was also a cafe menu. One item on the menu was a bowl of nibbles to feed the cats.
In addition to the cafe menu, there was a "cat menu" – a list of all the cats in residence.
Perhaps I was still agitated from being late, and concerned that I was running late to see my friends. Perhaps the cats are overstimulated by constant contact. The cats mostly seemed to swarm to people who fed them nibbles from the menu.
I left after half an hour. The cashier let me know that I still had half an hour left, but I explained that I had to meet my friends. She handed me a photo album of the cats as a souvenir.
I left feeling a lot less agitated than when I had arrived. If you do go, make time for the experience, have a coffee and some of their famous fondant cake.