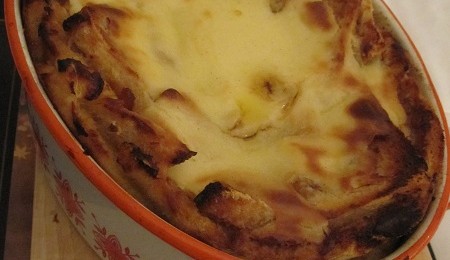 I cooked this on New Year's Day for my Mum and Dad. It's been a signature pudding of my Dad's for quite some time, so it was nice to return the favour and it topped off a fantastic roast joint of beef rib with all the trimmings beautifully!
Ingredients
100-175g softened butter
10-12 slices thick sliced white bread
A jar of thick cut marmalade
Juice and rind of 2 large oranges
Juice and rind of 1 lemon
Vanilla Custard – make your own from your favourite recipe or get the best ready made stuff you can.
Method
Preheat oven to 200C
Grease a shallow baking dish with butter
Cut the crusts off the bread
Spread the slices with butter and marmalade and cut into triangles (this is the messy bit)
Combine the juice and rinds of the oranges and lemon.
Line the bottom and sides of the baking dish with the bread slices. Dip them in the juice/ rind as you do so. Arrange them butter side up.
Fill the dish with the remaining bread triangles, keeping a few in reserve to decorate the top.
Fill the dish with custard.
Decorate the top with the remaining bread triangles.
Bake for 30 mins or until crisp and golden on the outside. The centre should still be nice and creamy.