June 8th is the anniversary of my father's death. Today marks the second anniversary.
Amidst the frenetic pace of my round the world trip, I often found myself with time to reflect. Sometimes, I'd think about how I would have looked forward to sharing some travel stories with my Dad. Other times, I'd wonder what he'd make of some of the decisions I've made over the past two years – I hope he'd be pleased: there's so much cool stuff happening and even more about to happen.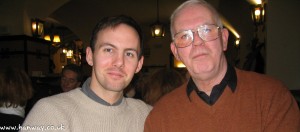 Looking back at last year's anniversary post, I can definitely feel the healing that has happened between then and now. The reordering of lives around an absence is now normal somehow.
Grief is a strange thing – learning to let go of someone without actually letting go is hard to describe, but I can feel myself moving through the stages.
Once again, others have sent messages of support. Once again, it's not just me, Rebecca and Mum who are thinking of him.
Thank you.
Have a look at these posts if you want to know more:
My Father, My Teacher, My Friend
Austin Hanway RIP – One Year On