It's hard to believe that it's been a whole year to the day since my Dad died.
So much has happened in the year since we lost him – so much that he would have wanted to see, so much that he could have shared with us, so much that we could have laughed together about. Of course, there are also regrets – so many things I wish I'd hurried up and done with him before he died.
It's been a busy year, a year where we've all learned new things about ourselves through the pain of loss; a year where we learned a few things about Dad, especially how much people loved him and miss him.
Only yesterday, I was contacted through Twitter by an old friend of Dad's who found out that he had died through this blog.
And on the weekend, Dinah (Rebecca's sister) gave me the photos from an old mobile 'phone I'd lent her, which had some old pictures of me and Dad on our travels or just messing about. This first one is from a trip to Prague:
And this second one is from a slightly tipsy Saturday afternoon, post-pub, when we had decided to go get some munchies together before heading home. I think he thought my obsession with taking pictures on my 'phone a little daft, so he stuck his nose into the lens – I still remember his weird giggle at the time: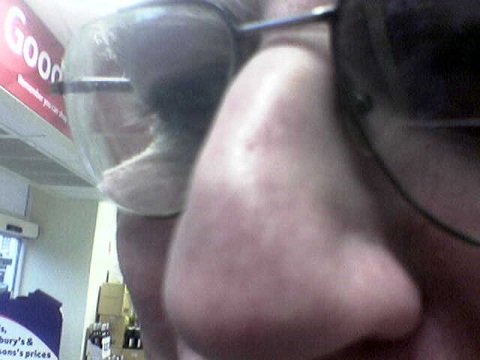 Today, we've already received cards and text messages of support – it's not just me, Rebecca and Mum who are thinking of Dad one year on. That means a lot to us.
To find out more about Dad, please have a look here: My Father, My Teacher, My Friend and Dad's Memorial Lunch.